Used-Scales.com sells and services pre-owned Digital Scales For Weighing
Used Counting Scales
A&D FC-20K USED Counting Scale for Sale
A&D FC-20K USED Counting Scale with 50 lb. max capacity features a Triple Display which always shows weight, average piece weight & piece count for easy use. The LED Display steps operator through the proper keys without a manual. The FC Series high resolution counting scales provide easy-to-use, versatile weighing features for many applications. These rugged scales include detachable displays for greater flexibility in use. A&D Weighing's FC-series counting scales are durable for use in industrial weighing environments and are easy to use. Counting is as easy as just pressing two keys! LIMITED SUPPLY
$249.95 ea
BLOWOUT PRICED: $199.95 ea (while supplies last)

A&D HCi USED COUNTING SCALE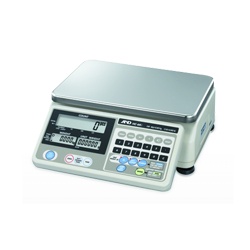 The USED A&D HC-30Ki Counting Scale with 60 pound max capacity is ideal for fast and accurate counting applications. The A&D HC-30Ki comes with the same user interface as the advanced FC-i models. Features include Detachable Display Unit, Automatic Counting Accuracy Improvement, Audible Weighing Assist, Comparator Function, and Large LCD Display. The A&D HC-30Ki has an internal memory of up to 99 unit weights. These scales have been used for scale rental over the past several years and are in good condition. Each is checked and calibrated before shipment. Limited quantity available.
$269.95 ea

BLOWOUT PRICED: $219.95 ea (while supplies last)

Also, please see our NEW counting scales
Thanks for visiting our site. Our goal is to provide you with some really good buying information for purchasing used scales which will save you money and be very reliable. Hopefully this site will help you to make the correct buying decision. You can still search and find a rare used balance or shipping scale or see the website that promotes used farmers market scales for sale and used hanging scales for sale but generally it's tough to find many places that are offering those products on a regular basis.
©Copyright 2020 Used-Scales.com. All Rights Reserved.

Designed by Used-Scales.com